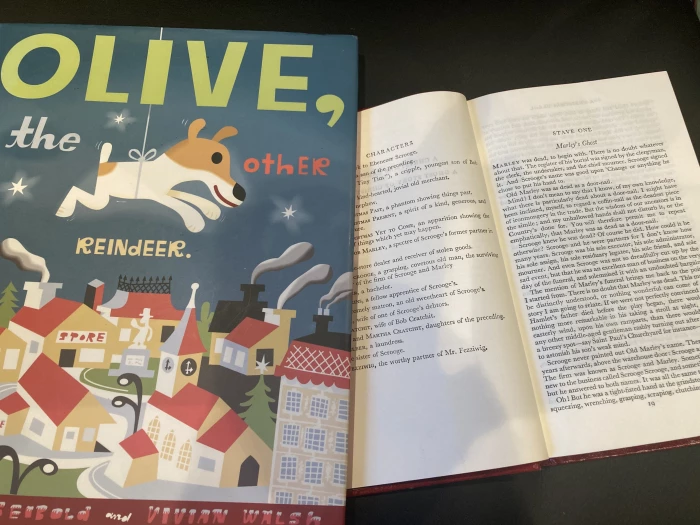 Louisa M Alcott's' classic novel "Little Women", begins with the unforgettable line 'Christmas won't be Christmas without presents grumbled Jo, lying on the rug.'I wonder what your favourite Christmas story is?
There are many stories which are either associated with or are about Christmas that are re-read at this time of year. These range from "How the Grinch Stole Christmas" By Dr Seuss to Charles Dickens's "A Christmas Carol", from "Olive the otherreindeer" by J. otto Seibold to Clement Clarke Moore's poem, "The Night Before Christmas" with its own famous opening line 'Twas the night before Christmas, when all through the house, not a creature was stirring, not even a mouse.'
To these you would want to add your own.
Some of our favourite Christmas stories are ones that were told to us when we were young and which in turn we have told to our own children or grandchildren enabling them to become their favourites as well.All of these manage to capture something of the spirit of Christmas itself. The stories are full of love and of giving, of seeking and of finding, of goodwill and of selflessness, of light and of revelation, of peace and of joy. They gladden the heart and lighten the spirit; they give us hope for the times in which we live.
Matthew and Luke, tell their own Christmas stories as well. Matthew has the Wise Men and Luke, the shepherds. Matthew reminds us of the cruelty of Herod and his soldiers, Luke, the pity and kindness of the inn-keeper.
As we have counted down to Christmas through Advent, we've made our own journey towards Bethlehem to kneel alongside those of the nativity, and with them gaze in awe and wonder at the face of God as He lies in the manger, Immanuel – God is with us.